E-mail Me to subscribe

Contents …
For beautiful landscapes and lands of imagination that are anything but gloomy, have a look at Conor Murphy's work later on in this newsletter. He's a local artist, and we've chatted about pushing the envelope on color use while still working within a "realistic" landscape idiom. It's a tricky balance, but Conor is an expert. For example, his Silent Pond captures the idea of the pond, the light and the mood.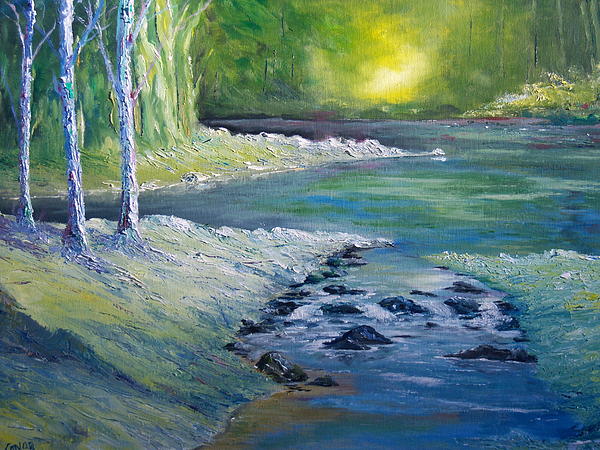 Conor Murphy surprises the viewer by using strong colors and expert impasto textures to suggest parts of the landscape. The result is a style and effect that is neither traditionally realist nor Impressionist, but is entirely Conor Murphy.
4. Meet local Boston area artist, Conor Murphy.

Conor Murphy was born in Cork Ireland and emigrated to the US in 1986, where he has been living ever since. He currently lives and works out of Duxbury, in eastern Massachusetts. He attended the School of Art in Cork City.
Conor makes a yearly trip back to Ireland, where he is inspired by its unique landscape. The mountains turn purple when the Heathers go to flower. He describes the west coast of Ireland as "God's place" – a special source of inspiration.
Conor Murphy paints primarily in oil, and he has expressed a love for Impasto style painting. A strong yet often subtle impasto approach permeates his landscapes. His careful and unexpected use of color and impasto texture results in landscape paintings that resemble little jewels. Gaze into these little painting jewels and be drawn into a dreamlike beautiful vision of a world that is part Old Ireland and part New England.
Enjoy some of his recent work. You can head over to his website for more info and his current promotions. Conor Murphy's Artist Website
Conor has been running an online auction for charity (almost finished!), featuring the painting The blue hole of Belize
Conor Murphy's Artist Website


Table of Contents)
5. Geometric Abstracts from artists on the 'net :
The winners of the summer's online Geometric Abstracts contests
Digital :
Digital Geometric Abstracts Contest page
First Place, Digital
53 Doors, Regina Coeli DeWinter


Regina Coeli DeWinter's artist website
Drawings
Hand Drawn Geometric Abstracts Contest page
Second Place, Drawings
Patterns in the Sand, Vivian Anderson

Vivian Anderson's artist website
Hand Painted
Hand Painted Geometric Abstracts Contest page
First Place, Hand painted
You've got mail, Vivian Anderson


Vivian Anderson's artist website
Photography
Geometric Abstract Photography Contest page
First Place, Photography (tie)
Dotty, Lisa Knechtel


Lisa Knetchel's Website
Ladder to Zen, David Dunham


David Dunham's Website

My own recent work

Lately I've been expanding on the Geometric Abstract theme in some of my paintings from earlier in the fall.there are two main abstract ideas in these paintings: The use of dark lines to define areas of the canvas juxtaposed against matched and mismatched areas of color, and the use of geometric patterns made form small swatches of contrasting and clashing almost matched color. In many cases the arrangements of lines and patterns resemble electromechanical devices or symbols from Physics. In some of the newer paintings, I've experimented with combining these two ideas.
Blue Logic and Lost papers and urban plans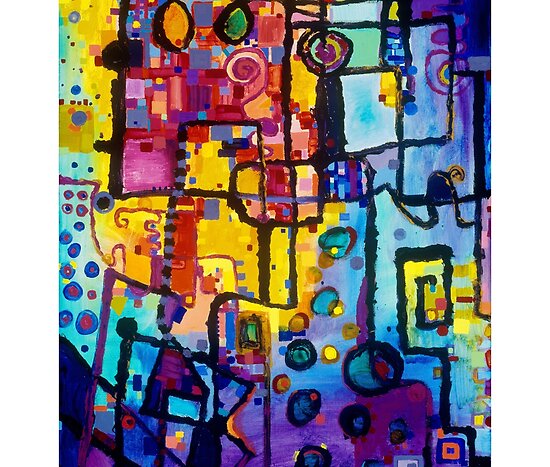 Vacuum energy and Uncertainty Principle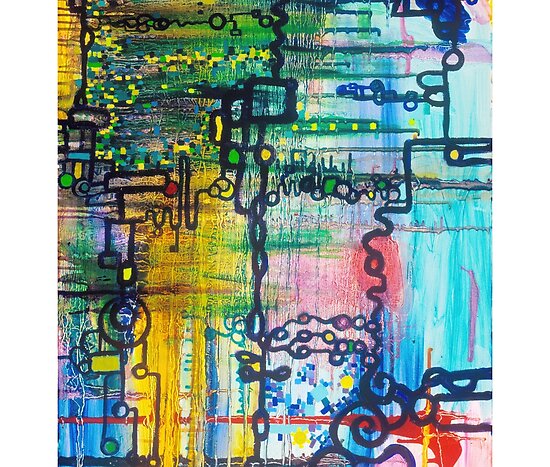 I've also been working on some drawings using pen or pencil on paper. They're portable and they can be done with task lighting, so I tend to do more drawing as Winter approaches. I've again been experimenting with combining different ideas from earlier work. In this case the drawings combine geometric abstract elements with representational and allegorical themes and subjects.
Still point in a Sea Change

Wood grain and Leafy jewels
Regina Valluzzi artist website
3. Some background on an old favorite painting,
"Beach houses"
Just over five years ago, I was collaborating with another artist. he was a strong abstract painter with a good sense of color, but was focused on landscapes at the time. We went back and forth in a conversation consiting of abstracted and abstract landscapes and wholly abstract paintings that referred to landscape ideas or that functioned as landscapes. My paintings Docks, Riverbank, and beach Houses (below) were painted during this ongoing visual conversation.


Beach Houses is an abstract painting that refers to a summertime landscape. Blue washes to create a feeling of open space, while textured yellow areas create forms and break up the space. The blue functions as sea and sky, whereas the yellow areas function as land masses.
An interesting feature of this painting for me was the way the different shades of yellow and shades close to yellow worked together and functioned within the painting. When placed against the varied yellowish swatches in the "land" masses, even fairly blue hues of green and intense reds still acted as part of the "yellow" mass. In a sense these other colors were referred back to "yellow". I've expanded on the idea of referring colors to each other in unusual ways in some of my more recent geometric paintings. I would venture to call the overall concept a "color field" approach, but I've been using it to create more complex patterns than were typical of the color field painters.
Another abstract feature here that sometimes crops up in my other work is the use of irregular swatches to create series of "edges" Layered irregular areas of color partially cover each other and partially reveal the swatch adjoining or underneath. This is an idea that pays homage to Clifford Stills, a favorite painter of my childhood.