Oil over Acrylic on stretched linen, 12 × 12 original painting.
Notes
12 x12 inch oil painting on stretched primed portrait linen.   A painted musing on signals, antennae and signal interpretation.
When your listen carefully, what do you hear? Does the world listen back?
What sort of creatures may be listening to our signals right now? What do they think of us?
Shhhhh… listen.
The intense red color were built up through a series of warm and cool red washes, starting from different edges of the canvas. The linear drawn elements were painted in, then the color was selectively altered and deepened using transparent and translucent glazes. The same reds were mixed as opaque colors with a tiny bit of white, and used to highlight features of the lines and of the wash. More white was added to create related pinks, used to pick out features in a rhythmic pattern. semi-absorbent gesso.
Purchase
Original
POD prints and merchandise

POD Clothing and Merchandise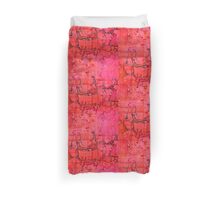 Contact
Related articles