Artist Notes
Abstract Acrylic painting, 16x 20 inch original, varnished acrylic on 1.5 inch deep cradled birch wood panel. The panel was sealed using Golden's GAC 100, an archival sealer and barrier layer. The painting was created in layers, alternating free form abstract expressionist ideas and techniques with tape masked hard edge techniques. Written in Particles and Fields is a study in yellow tonalities, with objects and patterns at various length-scales suggesting order at different length scales, granularity and self-similarity.
Many of the fine painted details are evocative of the symbols used for sinusoidal electromagnetic waves and for compression waves like gravity and sound. Other fine details are meant to evoke particle probability waves. In some areas the details are more explicitly quantum mechanical, where the electron standing waves for atomic orbitals and molecular orbitals have been sketched in carefully.
Text is used in the painting, but the text of particles and waves is of course equations and operators. The Schrodinger equation features prominently, but a number of key Quantum operators are also in there along with the DeBroglie particle wave equation and the Uncertainty.
---
Purchase
Original
Written in Particles and Waves, original acrylic painting on wood panel
POD giclees and art prints
POD printed merchandise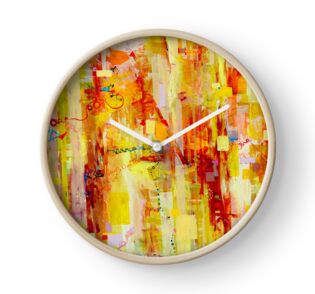 ---
---
Related articles across the web
---
Contact Me
I will typically get back to you within 3 days. I DO NOT harvest emails from contact forms. Please sign up for my mailing list if you'd like to be on my mailing list.
---