Archival art marker and ultrafine line pigmented ink felt tip pen on acid free paper.  11″ h x 14″ w.  Matted (mat dimension 16″ h x 20″ w)
Hand drawn (with my hand holding a pen on a piece of paper), 11 × 14 inch original. ZOOOM IN!
Archival art marker and pigmented felt tip pen on Crescent "RendR" acid and lignin free paper (similar to a Bristol Board).
"Quantum Foam" is an artist's visualization of a concept from Quantum Mechanics and String Theory. At very small length scales and in very high vacuum, space time is believed to be very active, full of short-lived virtual particles that spontaneously appear and disappear. the shape of the universe may also be very complex and convoluted at these length scales like a writhing self-similar foam.
---
Purchase  Quantum Foam Ink Drawing
Original Ink Drawing
Printed Merchandise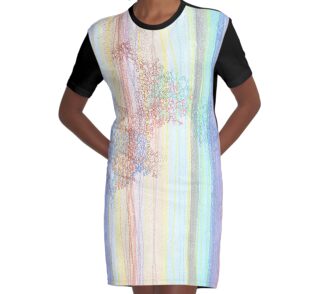 bags, shirts, dresses, cases, mugs, etc.
Detail Images
Related articles across the web
---
Contact Me
I will typically get back to you within 3 days. I DO NOT harvest emails from contact forms. Please sign up for my mailing list if you'd like to be on my mailing list.