Transition to Chaos, oil on Canvas, 24 x 36 inches.
Notes
Chaos is often heralded by increased complexity and fine granularity in condensed matter. I think of this process as the "machinery" of matter dividing itself into ever smaller an more loosely related units, which retain a fractal similarity to the larger originals right up to the point where they disintegrate and disappear into the formless field.
---
Purchasing Options
Purchase the Original 24 x 36 inch oil painting
Purchase a limited edition enhanced giclee
Enhanced giclees are extremely limited edition derivative works mixing giclee printing of the original with a new painted overlayer.  There are enough new details to consider them original mixed media works, and many online artists do market this type of work as "original".  I find that calling them enhanced giclees and pricing them as giclee-based works is less confusing for everyone.
Transition to Chaos enhanced giclee 1.5 in deep with hand painted details
Art Prints and merchandise

Clothing and Merchandise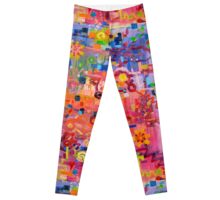 Print rentals through Turning Art
---
Details
Provenance
Published as the Cover of "Communitas", Austin Texas 2011, My featured image for the Beacon Hill Art Walk 2011 website (my profile), Published in Seymour Magazine.  Exhibited in "Aesthetic Experiments", Remis Gallery, Buyfield MA, 2014.
Making Of Transition To Chaos
Transition to Chaos started out as a different painting, a fairly flat bright pink work that just wouldn't quite gel.  I was painting a large representational piece "Lipstick Fish", and using a lot of oil-compatible gel medium in the reds and pinks (Weber's  Resingel).  I had a good bit of gel-diluted mixed paint left over, and I was just smearing the leftover paint onto a smaller blank canvas with a big broad bristle brush.
One of the appealing aspects of ResNgel is the candy-like plastic shiny appearance of the paint when it's diluted with a LOT of the gel.  The gel also changes the viscoelasticity of the paint, and makes it easier to draw out into lines and threads.  When the gel-paint mixture is smeared onto a canvas with a stiff brush, a soft impression of the bristle trail remains as part of the brush stroke.  When the brushstrokes from different colors cross, a very lovely pulling of one bristle pattern across the other results.  The effect is just yummy, intensely colored, finely textured and painty. I tried to create a finished painting that was very focused on these textures, but it didn't quite work.  The "work in progress" is below.  I like the motion and the sense of building shapes and space, but it just doesn't make sense the way I'd like it to.  My painter friend in Indiana, Charlie Spear, had a similar impression and helped crystallize my unease with the painting as a finished product – at this stage.
After the in-progress was thoroughly dry and had been stored for several weeks, I took it out again for a fresh look.  I realized that the yellow areas which didn't really relate to the background painting, didn't need to be painted out.  They needed to be painted in.  I could use a patchwork of gel shapes to integrate the painting.  While some of the background brush texture is covered up by the patchworked paint in Transition to Chaos, it still peeks through.  The broadly stated background helps integrate the painting, and the textured gel swatches continue the patterns of the paint underneath.  The final work has a 3-D almost bas-relief aspect, which allows it to work really well in all kinds of light (and it is just gorgeous with sunlight casting shadows from the raised paint).
---
Contact
Related articles